Investigation of a Flame
a documentary film portrait of the Catonsville Nine
A 45 minute 16mm film by Lynne Sachs
(available in 16mm, VHS video and DVD)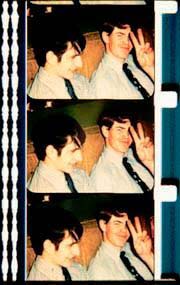 On May 17, 1968 nine Vietnam War protesters, led by brothers Philip and Daniel Berrigan, walked into a Catonsville, Maryland draft board office, grabbed hundreds of selective service records and burned them with homemade napalm. Investigation of a Flame is an intimate, experimental documentary film on the Catonsville Nine, this disparate band of resisters who chose to break the law in a defiant, poetic act of civil disobedience.
How did the photos, trial publicity and news of the two year prison sentences help to galvanize a disillusioned American public? Investigation of a Flame explores this politically and religiously motivated action of the 1960's in the context of a newly militarized America. This powerful, imaginative statement of protest reveals the necessity to reflect actively on our government's wartime forays into the lives and politics of other nations.
In addition to conversations with Philip and Daniel Berrigan, the film includes interviews with Catonsville Nine members John Hogan, Thomas Lewis, and Marjorie and Tom Melville along with writing by Mary Moylan. Conversations with the trial prosecutor, the draft board clerk and a jury member create a critical counter point to the story. Finally, radical historian Howard Zinn provides an insightful overview of the action and its impact.