Press & Reviews
"A complex rumination on the power of protest……the trauma of the past, the continued mistakes of the present and the necessity to reflect actively on our government's wartime antics." Holly Willis, The LA Weekly
"INVESTIGATION OF A FLAME is a gorgeously crafted experimental documentary recounting the odyssey of the Catonsville Nine. Investigation's radical veneer belies the after-schoolish wholesomeness at its core, for the committed pacifism of its subjects exemplifies a venerable American tradition of nonviolent civil disobedience -- the principled breaking of imperfect human laws in adherence with higher moral ones. There's little to add to the chorus of praise that followed MoMA's Documentary Fortnight screening of the film, but it's nonetheless a film to rave about, as well as reckon with." Ionnnis Mookas, The Independent Film and Video Monthly
"One of the ten best films released in 2002" Phillip Lopate, Film Comment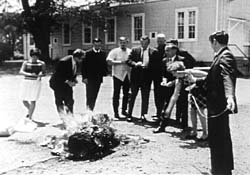 Mary Moylan adds to the flames during the Catonsville Nine's action in 1968.
"Sachs' elegant, elliptical documentary visits with surviving members of what became known as the Catonsville Nine, humble architects of this purposeful yet scathingly metaphoric act of civil disobedience." Jessica Winter, The Village Voice
"The Catonsville Nine are so intriguing, so inspiring. They almost make one long for the government to stick its nose into something murderously immoral once again; they probably have actually. In those days, anyone could become a hero and a martyr just by doing what's right. Bravo! A poetically flavored but soberly ennobling movie." Guy Maddin, filmmaker
"Speaking of people who broke the rules, Lynne Sachs made a fine, artful documentary about the Catonsville Nine. She's got the surviving protesters down on film, Philip and Daniel Berrigan among them; and she's got other interested parties too, including the district attorney who prosecuted the Nine and one of the jurors who convicted them. The juror weeps now, out of respect for their courage." Stuart Klawans, The Nation
"An intensely personal portrait that refuses to settle for the easy answers of propaganda. Sachs has created a rare gem of a film that manages to combine a sense of moral complexity with visual sophistication and conceptual brilliance. The film is remarkably democratic, including commentary from protesters, a prosecutor and juror involved in their subsequent trials as well as a draft board office clerk who attempted to protect the military records from destruction. Just as impressive, Sachs uses images of flowers and a scale model of Catonsville itself as elliptical, rhyming metaphors for the passions surrounding the protest, a strategy that mirrors the poetry of the protesters' use of napalm." The Florida Film Festival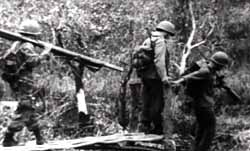 US Soldiers in Vietnam
"It is a terrific work. Investigation of a Flame is compelling and revealing in terms of the motivations and consequences of what took place. (The film) gives a density and delicacy to the representation of what happened that really enlivens memory and enriches history. The sensitivity and strength, together, of the perpetrators is quite impressive. They know what they are doing and why and have given it such careful thought. I felt like it had similarity to The Thin Blue Line with the poetic, evocative quality Morris instills, but without the romantic overtone that his use of Glass' music imparts. The rapid pans of flowers and so on have a more austere quality to them without that kind of softening and intriguing, mystifying music and the austerity may leave the film less scintillating in some sense but it is also a work of obvious integrity and purpose that then takes on a dignity that, I think, is genuinely memorable." Bill Nichols (2004) Author of Movies and Methods, Introduction to Documentary, Representing Reality: Issues and Concepts in Documentary
"These people were not Yippie fist-shakers. All but one of the men wore suits. Investigation of a Flame captures the heartfelt belief behind the Nine's symbolic action of civil disobedience that sparked other (actions) like it across the nation. Sachs cannily avoids the usual documentary dance of talking heads and file footage by interspersing impressionistic shots. (The film) provides a potent reminder that some Americans are willing to pay a heavy price to promote peace." Lee Gardner, Baltimore City Paper
"This is a documentary about the protest events that made Catonsville, Maryland, an unpretentious suburb on the cusp of Baltimore, a flash point for citizens' resistance at the height of the war. Sachs found assorted characters still firm to fiery on the topic. She came to admire the consistency of the mutual antagonists in an argument that still rages (today)." Francis X. Clines, The New York Times
"(Sachs') stammering editing pace and hand-held camerawork is more avant-garde than MTV as the film moves apace with its idea that the history of Vietnam protests is more than simply a battle of hawks and doves." Peter Crimmins, Berkeley Daily Planet
"This poetic essay offers the perfect antidote to PBS: there is no omniscient narrator talking down to the viewer, reciting facts and explaining what to think, yet the story is perfectly clear. Brothers Phil and Dan Berrigan, who led the protest, appear both in the present and in archival footage, a mix that makes their commitment palpable, while images like a newspaper going in and out of focus remind us that shifting contexts alter our understanding of complex events." Fred Camper, Chicago Reader
"To those who think that everything in a society and its culture must move in lock step at times of crisis, these two films might seem to be 'off-message.' But they are in essence patriotic... saluting U.S. democracy as it pays homage to the U.S. tradition of dissent." Michael Sragow, The Baltimore Sun
"This is a beautiful, haunting evocative film. It presents the viewer with a painful reminder of the evil and idiocy of an earlier American war, and of the singular courage of nine who struggled against it. "Investigation of a Flame" moves effortlessly between past and present, between a peaceful suburban environment and the horrific violence of Vietnam, between the serenity of a Maryland springtime and the machinery of death, between black and white and color, between youth and old age. It tells us much about how great deeds are remembered and judged by their doers, many years later." Prof. David Schalk, William R. Kenan, Jr., Professor of History, Vassar College.